EOTECH Vudu 1-8×24 SFP
Ships in 1-5 business days
ITAR
This product is regulated by ITAR. It can only be shipped in the USA.
Sale
Video | What's Included | Specs | Pictures | Related Info
Low Power Variable Optics (LPVOs) bring a unique set of advantages to any rifle build. They allow shooters to positively identify threats and no-shoots much easier than unmagnified and even magnified red dots without costing the shooter the ability to quickly aim down sights at a target in close proximity. Combined with a top-tier weapon light, they make identification in low light conditions at distance a breeze as well. So if you need to shoot targets in close proximity and at a distance, LPVOs are the way.
That's why we love the VUDU 1-8×24 Second Focal Plane. With a quick turn of the throw lever, we're able to effortlessly magnify targets at distance and quickly adjust our aim to place the daylight-visible illuminated Triplex BDC reticle on the target. The glass clarity is top-notch and the adjustment turrets are quite minimalist so as to not bulk up the profile of the scope. Plus it has stellar battery life out of a single CR2032. As far as LPVOs are concerned, this is one of our favorites.
OVERVIEW VIDEO
WHAT'S INCLUDED
---
One EOTECH Vudu® 1-8X24 Rifle Scope, Operator Manual, Reticle Manual, Throw Lever, Lens Cleaning Cloth, and Battery.
This does NOT come with a Scope Mount.
You will need to purchase a 30mm scope mount or rings separately. We recommend the
Scalarworks LEAP Scope Mount
.
SPECS
---
Overall Length
10.9″ (278 mm)
Weight
20.8 oz (589.7 g)
Magnification
1-8X
Tube Diameter
30 mm
Objective Diameter
24 mm
Power Source
CR2032
Auto Power-Down to Sleep Mode
Approx. 2 hrs
Eye Relief
1X: 3.46-4.09″ (88-104 mm)
8X: 3.54-3.9″ (90-99 mm)
Field-of-View @ 100 Yards
1X: 105.8 ft (32.2 m)
8X: 13.2 ft (4 m)
Country of Origin
Made in Japan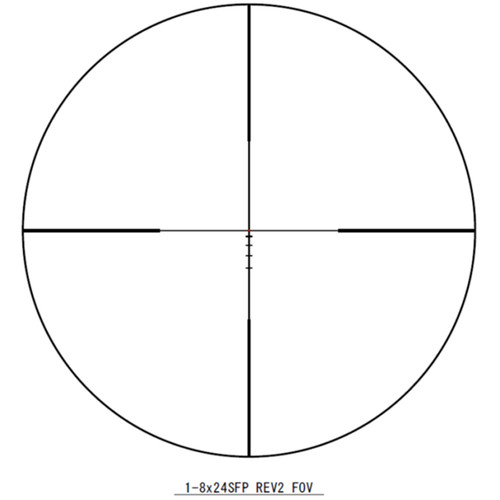 The HC3 is a second focal plane MOA-based hashmark reticle that was designed specifically for the 3-gun competition shooter. The quadplex BDC reticle features a precise 0.5 MOA daylight-visible illuminated center dot and four sub-tension hash marks providing precise ballistic holdovers for those longer shots. The HC3 reticle is also an excellent choice for shooters interested in a short to mid-range low power variable hunting optic.
| | |
| --- | --- |
| HC3 RETICLE TECHINCAL SPECIFICATIONS | |
| Adjustment Graduation Per Click | 0.25 MOA |
| Adjustment Graduation Per Rotation | 20 MOA |
| Total Elevation Travel | 100 MOA |
| Total Windage Travel | 80 MOA |
PICTURES
LPVO Versus Red Dot + Magnifier – YouTube – T.REX ARMS
Our Most Recommended Rifle Upgrades – Help – T.REX ARMS