ALG Defense Advanced Combat Trigger
Ships in 1-5 business days
ITAR
This product is regulated by ITAR. It can only be shipped in the USA.
Video | What's Included | Specs | Pictures | Restrictions | Related Info
The Advanced Combat Trigger (ACT) is a great option that provides a much better, more refined press than a Mil-Spec trigger without breaking the bank. It also provides the same level of reliability as a Mil-Spec trigger. Our team has run these for a while now and can safely say that they are one of the best, most affordable triggers on the market.
The ACT is a single-stage trigger with both a 4.0lb and 6.0lb hammer spring included. The 6.0lb trigger pull is going to be similar to a Mil-Spec trigger but without the grittiness. The 4.0lb is great for lighter, faster manipulation and also stays within the military minimum pull weight rules. This is our preference between the two.
OVERVIEW VIDEO
WHAT'S INCLUDED
---
One ALG trigger; two trigger pins; one trigger spring (pre-installed); two hammer springs, one tan (6 lbs), one purple (4 lbs): 4ml ALG go-juice lubricant; slave pin
SPECS
---
FEATURES
The ALG Defense ACT trigger pull is smoother and sharper than a stock trigger. This is accomplished by polishing the sear surfaces smooth and HardLubing the trigger components.
Sear geometry has not been changed from the standard profile, so the high reliability that the stock trigger is known for is unchanged.
The trigger and hammer are made from true 8620 alloy steel military specification castings, correctly carburized, quenched, and tempered for high surface hardness.
The disconnector is 1070 High Carbon steel properly Austempered into the spring range of hardness.
Springs are corrosion-resistant and meet military specifications.
A full-force hammer spring is used for positive ignition of all types of ammunition.
Trigger and hammer pins are improved over stock mild steel by using 4140 Chrome-Moly steel that has been quenched and tempered. Pins are centerless ground to a fine finish and a diameter 0.001" larger than stock to reduce play in the trigger assembly while retaining a slip fit into the lower receiver.
Pull weight is above the U.S. Military minimum pull weight of 5.5 lbs but does not reach near the upper limit of 9.5 lbs. Generally, the pull weight is about 6.0 lbs.
Made in the USA.
TECHNICAL SPECIFICATIONS
| | |
| --- | --- |
| Stage | Single-stage |
| Pull Weight | 4.0 lbs (Purple Spring) 6.0 lbs (Tan Spring) |
| Pin Size | Mil-Spec |
| Adjustable | No |
PICTURES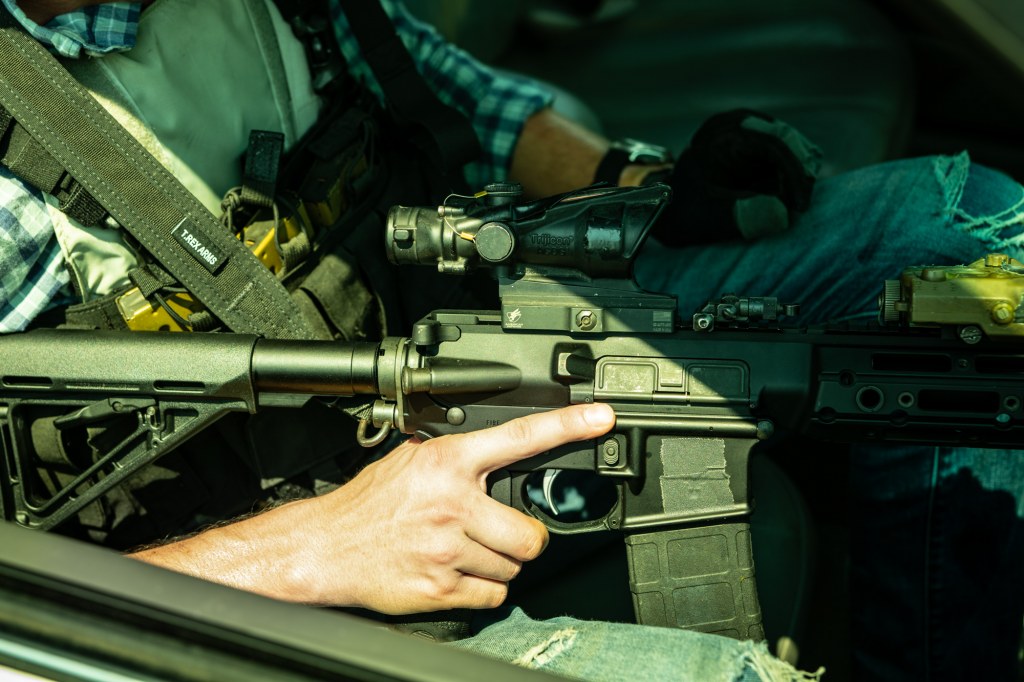 RESTRICTIONS
---
This product is restricted by International Traffic in Arms Regulations (ITAR) and cannot be shipped outside of the USA.
Consistency, Recoil, Trigger Management With a Stock M4 – Video – T.REX ARMS
How Should You Set Up A Rifle? – Video – T.REX ARMS
ONE TAKE: Lucas Botkin's 13.7 BCM Carbine – Video – T.REX ARMS